Dandelion Menagerie Barossa (GSM) Grenache Shiraz Mataro 2019/2021 750ml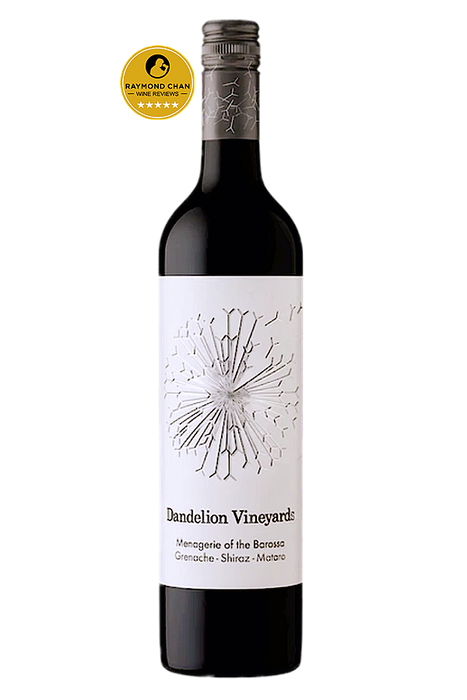 Dandelion Menagerie Barossa Grenache Shiraz Mataro 2019 750ml
5 stars (95/100) Sam Kim's Wine Orbit
5 Stars (18.5/20) Raymond Chan Wine Reviews
At the end of our old vine garden path there is a historic Menagerie of three grape varieties, adjoining blocks of Grenache, Shiraz and Mataro at Gomersal in the Barossa. After hand-picking selected bunches of our Menagerie field blend in mid March our winemaker Elena Brooks let the whole bunches ferment together in open top fermenters with ambient or other people's yeasts. The wine was hand plunged for 14 days, before basket pressing into old French Oak barriques, to then mature for a further 12 months in the same oak, before bottling without fining or filtration to capture the essence of our vinous Menagerie of the Barossa.
Colour
Mild-purple to purple-red, with a more opaque rim edge.
Nose
A bag of boiled lollies mixed with a roadside of dusty blackberry bushes in full fruit. Earth, rose petals, fresh and dried herbs; fennel and sandalwood, and - having said that - the faintest hint of older French oak bouquet. Deep aromatics above which spice exotica floats shimmeringly. Each whiff is something new, as if the wine is toying with you.
Palate
Grip and texture. A lesson in grip and texture… Peppercorns atop plummy, dark berry fruit flavours and cherry pith and a pastis/aniseed kick. Dry, very dry; but there underlying the dark and determined berry fruit foundation runs a ripe, sliding, slinking acidity. This is a playful mouthful of red wine as much as it is a fully, quietly qualified one. Drinking it is a study in the dialectic.
ABV: 14.5%
Whiskeyonline | Whiskyonline NZ