Espolon Blanco Tequila 700ml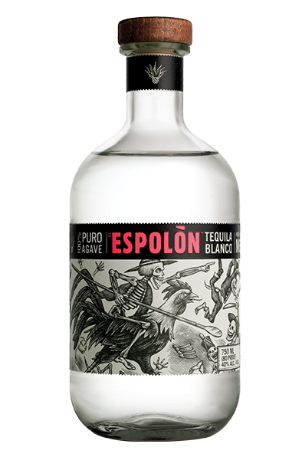 Espolon Blanco Tequila 700ml
Espolòn is an award-winning collection of super-premium tequilas that celebrates Mexico's storied history and culture through classic 19th century artistry and the iconic rooster – a symbol of national pride. The traditional "Dias de Los Muertos" (Day of the Dead) -style imagery on each label depicts significant moments in Mexican history and pays homage to the brave men and women who fought to establish modern day Mexico.
 Espolòn Blanco is handcrafted with single-sourced 100% pure Blue Weber Agave at Destiladora San Nicolas, an artisan distillery owned by Gruppo Campari located in the Los Altos (Highlands) region of Jalisco, Mexico. Master Distiller Cirilo Oropeza brings multiple decades of expertise to the craftsmanship of Espolòn, applying as much artistry to the liquid as is found on the label. Espolòn was awarded "Best Silver Tequila" and a Double Gold Medal at the San Francisco World Spirits Competition.
Clear with a platinum cast. Rich sweet agave, pepper, floral tropical fruit and lemon zest aromas. A soft smooth entry leads to a dryish light-to medium-bodied palate with bright agave, pepper, vanilla bean, grilled pineapple and spice. Finishes cleanly with drying perfumed spice. Refreshing. 100% Agave.
ABV: 40%
Whiskeyonline | Whiskyonline NZ