Kavalan Triple Sherry Cask 700ml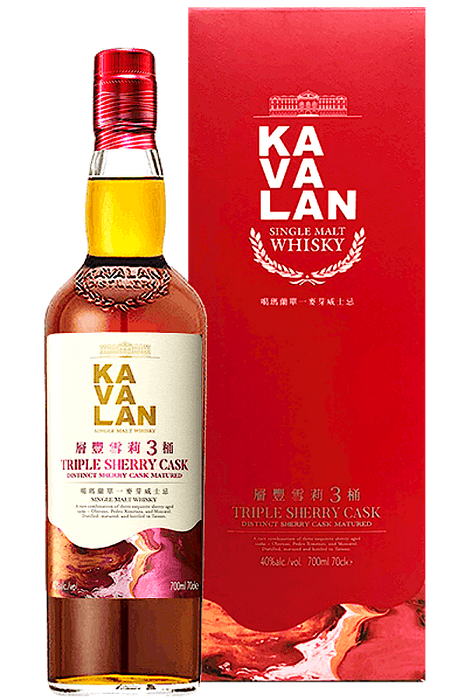 Kavalan Triple Sherry Cask 700ml
Taiwanese heavyweight Kavalan, most recently ranked 24th on the World's Most Admired Whiskies List by Drinks International, is unveiling the global launch of an all new Kavalan Triple Sherry Cask single malt whisky
Kavalan is launching a new Triple Sherry single malt bottling featuring a mix of whiskies matured in Oloroso, Pedro-Ximenez, and Moscatel Sherry barrels.
The distillery describes the whisky as having "characteristics of cinnamon, smoked candied plums and citrus, berry, tropical fruit and longan scents, slightly honey, chocolate and toffee tickle the taste buds cheerfully, just like a supple flamenco dance."
It will come with an all new packaging which visually expresses the profile of the whisky through intertwining patterns of white, gold and red, which were painted with acrylic, to symbolise the smooth taste of the three Sherry casks used.
This will be a real balancing act for the Taiwanese distillery as it must avoid becoming overly-sherried, which can be sharp and too intense, whilst drawing out the mellow, honey sweetness from the PX and Moscatel barrels, and the dried fruits from the Oloroso barrels.
TASTING NOTESFlavour:
Ripe, mature berries and dried fruits fill the nose, with fresh scents of grapes and citrus interlaced with chocolate brownie and toffee sweetness. Hints of cinnamon, clover and spiciness, blend into pleasant oakiness and fragrant rosemary.
Palate:
Lingering flavours of sherry dried fruits. Warm and smooth with a mellow texture. A lively flamenco dance of candied fruit, caramel, and honey sweetness on the taste buds. Multi-layered and perfectly balanced, it's an unforgettable feast for the palate.
Tasting: Best paired with desserts, dark chocolates, nuts, seafood salads, smoky meats and mildly spicy cuisine.
Alc: 40%
Whiskeyonline | Whiskyonline NZ