Old Particular Inchgower 21YO 1998 Single Malt 700ml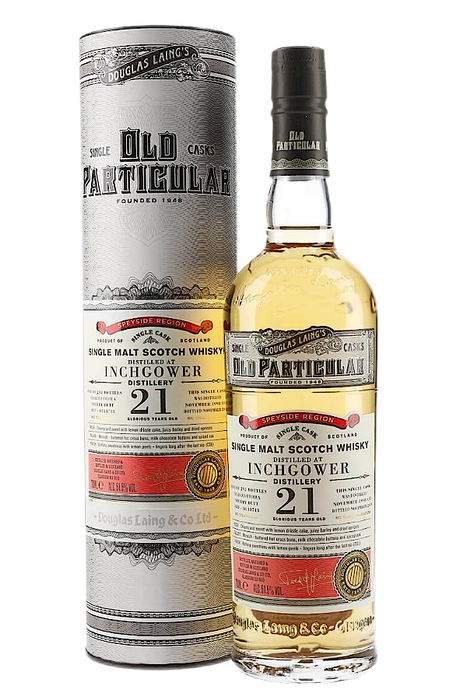 Old Particular Inchgower 21YO 1998 Single Malt 700ml
The bottler is Douglas Laing an independent bottler of fine Scotch whisky established in 1948. The concept is to enable whisky lovers around the world a chance to come as close as they can to sampling whisky as it was straight from the cask or having a whisky experience like no other.
The Inchgower Distillery was built in 1871 by Alexander Wilson & Company to replace the Tochineal distillery but liquidated in 1903. In 1938 the ownership was transferred to Arthur Bell & Sons Ltd and to this day the Bell's logo is used in the advertising of Inchgower. Producing around 2,000,000 litres of spirit annually the distillery is now owned and operated by Diageo and is used as a major component in Bell's blended whisky. This 21-year-old single malt whisky was distilled back in November 1998 and set aside to mature in a single Sherry Butt. Only 292 bottles were produced at 51.5% ABV by Douglas Laing Independent bottlers. Part of the Old Particular single cask range.
Tasting Notes
Nose:
 Tunnocks tea cakes, salted butter, dried dark fruits and lemon tart.
Palate:

 
Milk chocolate covered fruit cake, dried apricot and orange, spiced oak.
Finish: Buttered soda scones, grated lemon peel, long and moreish.
Alc: 51.5%
Whiskeyonline | Whiskyonline NZ